Sealant:
SEAL FLEX PS is a two-part, polysulfide sealant which effectively seals all joins subject to structural movement as well as non-moving joints against ingress of water and dirt. It is available in in gun and pouring grade Advantages
Flexible and elastic but tough.
Can be over coated
Accommodates continuous cyclic movement
Good weather resistance
Water Proof
UV resistant
Excellent adhesion to most substrates
Can be painted after 24 hours Application Field For sealing of vertical or horizontal concrete joints, curtain-wall panels, tilt-up panels, window glazing, metal setting .Also ,for all joint seal applications where a short curing period is required, such as expansion and contraction joints in shopping centers, sidewalks or any other traffic areas.
It will effectively prevent water from entering the sealed joints and thereby eliminate erosion of the soil underneath the slabs. Particularly areas which are in contact with water frequently, such as swimming pool decks and around planters must be protected. All coping joints and deck joints should be sealed. It's resistant to chemicals. Design Criteria Joints should be designed so that movement due to shrinkage and thermal change does not exceed 25% of the joint width.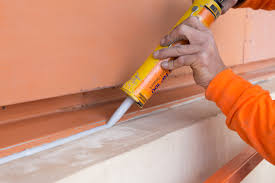 Instruction for use
Sealflex has excellent adhesion to most substrates used in construction, particularly concrete, mortar, block work, wood, anodized bronze. It also bonds very well to some painted surfaces, but it is advisable to carry out a site trail first to assess the suitability of the particular coating in question.
Joint Preparation: Joint surface must be clean and dry remove all dust and laitance by grit blasting, grinding or rigorous wire brushing. Blow all joints clean using dry, oil free compressed air. All curing compounds, grease, waterproofing compounds etc must be removed. Polyurethane rod or polyurethane foam is recommended as a joint-filler and backup material. Fillers treatment with bituminous products, grease or oil should not be used. Where present, they must be removed or separated by vinyl tape or polyethylene film.
Where necessary to achieve the correct joint profile, backing cord should be used. Where backing cord is not used place bonding tape in the base of joint.
Where a neat finish is required, masking tape should be applied down each side of the joint prior to the sealant works, it should be removed immediately after tooling the sealant.
Priming
Priming is not generally required with this material, when using in dry, sound, well prepared joints or which have been reformed using resin based mortar. For further assistance, consult with the technical team of ORGANIX.
Application:
Apply by caulking gun, hand or pour from container. Bulk sealant can be applied by pumping equipment. Press firmly into joint using a trowel or putty knife to insure good contact.