About Polished Concrete:
Polished Concrete look like concrete grinding and also sealing system, with help of grinding or polishing machine. In this process, a densifier chemical is used as a hardener. This hardener penetrates into the concrete to create a chemical reaction that create hard concrete. We are providing Polish Concrete materials, tools and application service with best price in Bangladesh since long time. It's a green flooring system.
How to Work Polished Concrete:
Your residential & commercial project you can use Polished Concrete for long lasting & eurable under heavy foot traffic. Because Polished concrete could be made in grinding and also sealing scheme to porous concrete, which uses a penetrating sealer to create a reflective surface.
Chemical hardener applying that densifier then grinding it to the desired gloss and smoothness. Using Grinding machine, scarified, vacuum cleaner, Polished pad, Diamond cup, grinder etc. tools, it look like of sanding wood. The concrete should be ground to 800, 1500 or 3000 grit sanding and also polishing pad. Colors are mixed into the concrete before the slab is placed, but could be applied with dye, stain or specialized paint. Patterns, design could be applying on the surface while the concrete is setting in order to make an adaptable result and variety of finishes. By the deeper grinding to expose aggregate, dyeing the concrete and polishing the flooring surface create a high shine or glossy floor finish.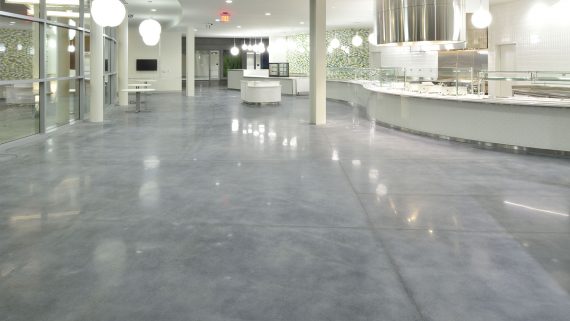 Application Process:
Some significant steps to application polished concrete floor. Proper application technique would ensure highly reflective durable, and abrasion resistant.
Floor Grinding:  Starts Polished floor from grinding. 20-30 grit diamond use to expose aggregate and a flat floor. We grind existing floor to eliminate loose particle plus leveling floor properly. After that we use 60 to 120 grit diamonds to remove scratch mark.
Densification:  After drying grout have to need apply densifier. Concrete densifier hardens the floor surface and reduce dust producing. We're using potassium-based, lithium-based and sodium-based densifier to saturate the concrete.
Polishing: Remove the excess dry densifier with 50 grit resin bonded polishing pads. Then step by step polishing need with finer grit resin bond polishing pad. If the expected gloss of the floor is not showing, we apply again densifier and permit it to dry then again polish it until wanted surface gloss is achieved.
After the floor is properly to gloss and meet desire specifications. We apply protective sealer coats. It assistances the concrete increases surface tension and protect the absorption of water, oil, residue and also dirt.
Finish Polished Concrete Floor
New,ConcreteSurfaces:
Desire aggregates materials can be including when concrete mixing and casting. After grinding and polishing the concrete with materials that will show and creating a wonderful-looking surface. So, everything what about your desire finish have to need include decorative glass, metal or rock in concrete mix.
Existing Concrete Surfaces:
If your concrete floor already ready, there are lots of scope to make it unique, shiny glossy & colorful We sum up color to the surface with dyes or stains. Concrete will absorb the color by micro pore and capillaries; permanent color achieves existing concrete and gets a special look. This can be achieved multiple color combinations.
Existing Weak / Rough Concrete:
We may applying cementitious durable on top of weak or rough concrete floor surface. These overlays are cement based, self-leveling offering concrete a uniform and even look. We could add color full glass or stone for a decorative stylish finish. Cementitious overlay is a good solution for concrete that requires too much patching, has cracks or even needs a leveling smooth floor finish.
Can all Concrete be Polished?
Yes, concrete polishing for nearly all kinds of concrete. This includes new and existing concrete, as long as the floor is structurally sound. New concrete floors take several days to cure and harden before polishing. Existing concrete may need to be cleaned by concrete grinding or shot blasting before polishing.
Are Polished Concrete Floors Slippery?
Concrete polishing turns regular concrete surfaces into smooth, high gloss floors, but usually doesn't make them slippery. Clean, dry polished concrete is no more slippery than regular concrete. It's also less slippery than waxed linoleum or polished marble floors.
How do I Maintain Polished Concrete Floors?
Concrete polishing creates a durable and low maintenance surface. Flooring that won't trap dust, dirt, or mold and can be easily mopped. Polished concrete maintains its shine for years.
Advantage:
It's totally Environmentally Friendly floorin
Infinity Design
Seamless Surface
Friction Resistant
Chemical Resistant
You Clean it Easily
Cost Effective
Excellent Aesthetics
Qualifies for Mega Projects