PRODUCT INFORMATION :
MG Corporation brings a premium intumescent fire resistant coating tested to comply with fire ratings performance prescribed under the International Building Code (IBC). These standards involve (i) fire resistant testing which measures a product's ability to prevent fire penetration over a period of time, such as ASTM E 119, FM 4975, ASTM E 662-97, ASTM E 3675-98, ASTM E 162-98, ASTM E 1354-94, ASTM E 814, BS 476, AS 1530.3 AS 1530.4. EN 13501-1, and (ii) fire retardant testing such as ASTM E 84 and Room Corner Test standards including UBC 8-2, NFPA 286, UBC 26-3, measuring a product's ability to limit flashover. Firefree 88 is listed and labeled by FM Approvals, a division of FM Global, listed and inspected by the International Code Council ("ICC") classified by Underwriters Laboratories (U/L), and accepted by NY Material and Equipment Acceptance Division (MEA).
APPLICATION
Ff88 is a water-based latex paint and its application is similar to applying a regular water-based latex paint (except for the recommended thickness which needs to be precisely complied with for adequate performance). Ff88 can be brushed, rolled or sprayed using an airless spray gun. Additionally because of its high percentage of solids, it will have an excellent spread rate and coverage. See attached separate Application Instructions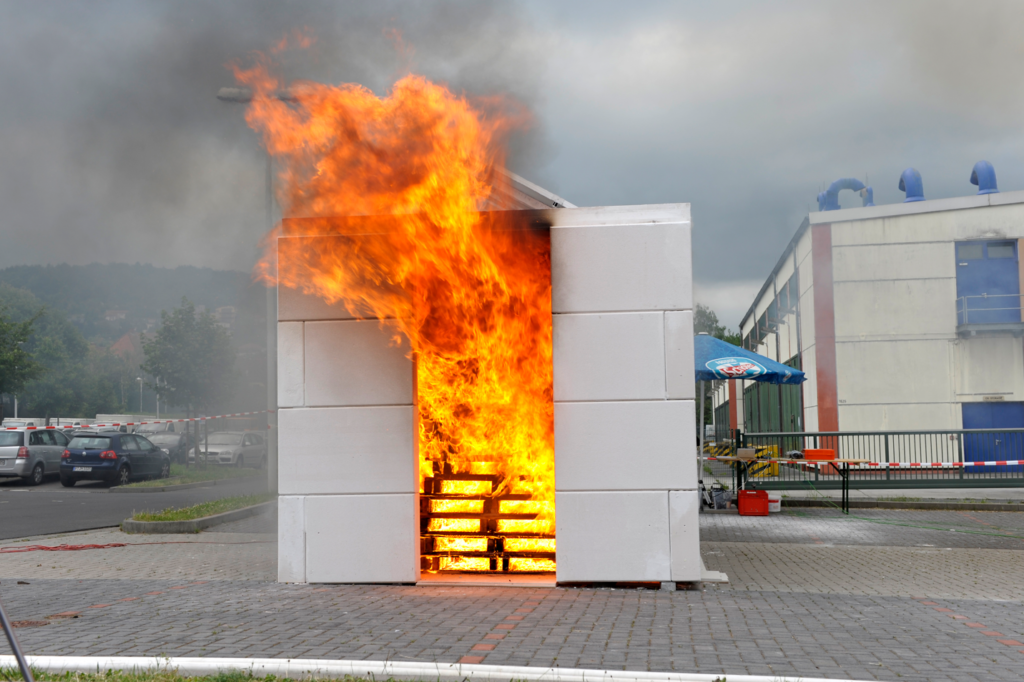 RECOMMENDED USES :
Use on properly prepared uncoated, primed or previously painted surfaces. Ff88 can be applied to numerous materials, including wood, gypsum board (sheetrock, plasterboard), lathe and plaster, concrete, masonry, embossed/pressed metal tin, thin gauge metal, galvanized steel and aluminum, fiberglass, carbon fiber, plastics and other composite materials for 1 and 2 hour ratings. Can be used on spray polyurethane foam to achieve a 15 minute barrier. As a result of its' superior fire resistant performance, Firefree 88® can provide significant material and labor cost reductions, resulting in significant savings when compared to other construction options in situations such as construction, both new, retrofit and defective, (residential, commercial, industrial and government), insulation and transportation. Recommended for historic properties, schools, health care (hospitals, assisted living), apartments, condominium, high-rises, hotels, stores, restaurants, oil and solar facilities, government facilities, military applications and facilities, transportation (aerospace, aviation, light rail, maritime, energy). Ff88 is a water based coating designed for interior use. However Ff88 can be used in some exterior applications if covered by the FfE Exterior Topcoat in strict compliance with Firefree's specifications (contact Firefree for more information). Ff88 comes in a white, flat finish. If a different color or finish is desired, Ff88 can be top coated with most premium paints to achieve the desired color and finish. For large orders (>200 gallons) Ff88 can be tainted by Fire free. Please contact Fire free for such custom tinted orders.
KEY FEATURES:
Cost efficient
High performance
Eco-friendly
Fully tested
Certified
Easy to use and apply
Usable on multiple substrates/assemblies
FIRE SAFETY
For various reasons, including (i) the very different circumstances that may exist from one fire to another, (ii) the differences between conditions in an actual fire and laboratory conditions in which testing is conducted, and (iii) the inherent variability of fire tests, passing a laboratory test or certifying/labeling Ff88 for use in specific assemblies/systems does not mean that the same application of Ff88 will necessarily provide an equivalent protection or the same result in an actual fire or in a new laboratory test. Furthermore, Ff88 is to be used only as a component of complete fire retardation systems for the whole structure. It will only contribute to slowing fire spread for the area where it has been applied and will not, by itself, prevent a fire from starting or continuing. The amount by which Ff88 retards a particular fire will depend, among other things, on (i) the amount of Ff88 applied, (ii) the conditions of the other elements of the assembly incorporating Ff88, and (iii) the conditions of the actual fire itself. Ff88 will not make a fire any less dangerous to persons or property. Firefree cannot guarantee that loss or injury will not be suffered by persons or property. It is the sole responsibility of the applicator to ensure that Ff88 has been applied in accordance with the application directions. It is the responsibility of the occupier to ensure the paint is not cracked, chipped or peeling.