MG Corporation bring Spray polyurethane foam (SPF) is an insulation that also functions as an air barrier and depending on type, as a bulk water barrier and moisture vapor retarder. SPF is made by reacting MDI (A-side or iso) with a polyol blend (B-side or resin). The two liquid components are joined under pressure in a spray nozzle where they are applied directly onto wall, roof or building assembly. Once the reacting liquid hits a surface, it expands 30 to 120X and solidifies into a foam matrix. SPF is typically applied by certified professionals.
SPF seals and protects the building from infiltration of hot air, cold air, moisture and sound. Its R-value reduces conductive heat transfer and its air barrier properties help reduce convective heat transfer. SPF is an ideal insulation product for residential, commercial, institutional, military and industrial buildings. Utility cost savings of 30 to 50 percent can be realized with SPF insulation.
SPF BENEFITS IN BUILDINGS
Offers higher thermal resistance, can reduce heat transfer and lowers utility costs
Reduces air infiltration, can reduce energy losses and lower utility costs
Through vapor retardation, can prevent moisture in the walls and reduces condensation and mold
Restricts unwanted dust, pollen, allergens, from entering, and can improve indoor air quality
Can reduce HVAC (heating, ventilation and air conditioning) equipment needs by 50 percent (due to reduced heating and cooling demands), and lower equipment costs
Helps meet building codes and contributes to green building certifications, including:
LEED®-H for homes and LEED® for commercial buildings
ASHRAE Standard 90.1
ENERGY STAR®
IECC
US Army Corps Building Air Tightness Requirements (ECB 2009-29)
National Association of Home Builders Green Building Standard™ for homes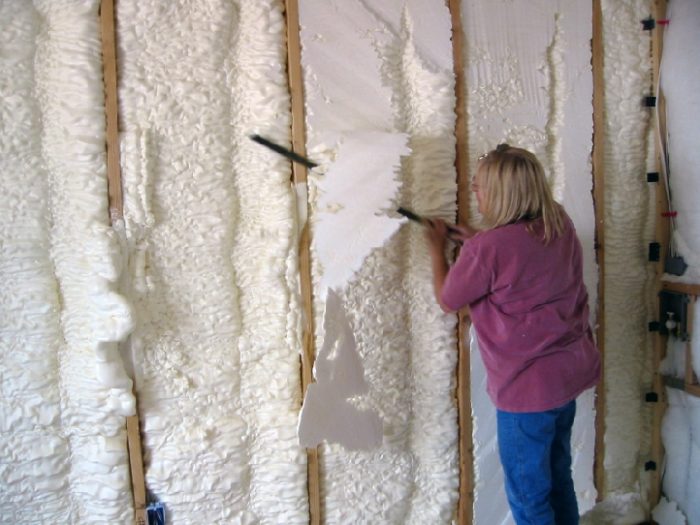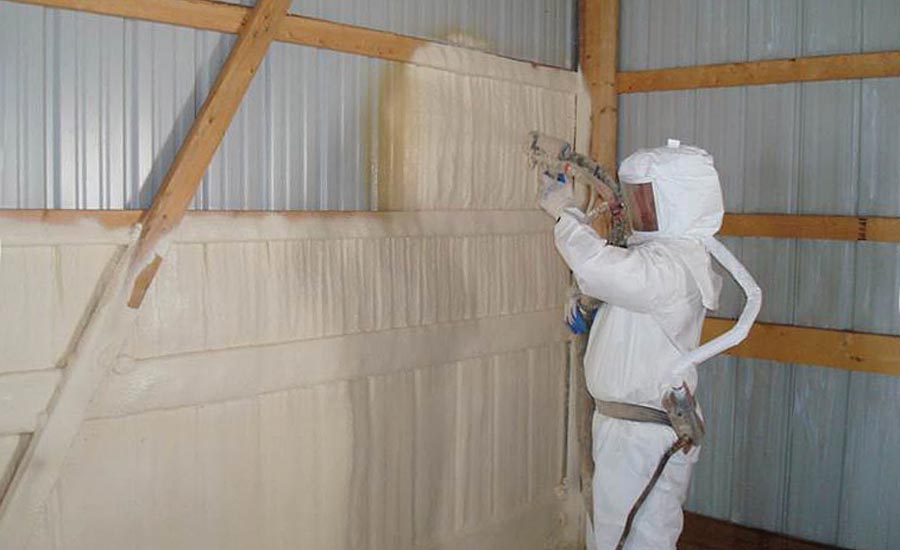 TYPES OF SPF
Open cell SPF (1/2lb./ft.3 density) has an R-value of 3.7 per inch. It is an effective insulant that is typically installed in wall cavities, attics and crawl spaces. It acts as both an air barrier and noise absorber. Open cell SPF is softer and more flexible than rigid closed cell foams. In general, it is best suited for mixed or warm climates. It can be used in colder climates, when installed in combination with a vapor retarder.
Closed cell SPF (2-3lb./ft.3 density) has a higher R-value of over 6 per inch. It is an excellent air barrier, bulk water barrier and moisture vapor retarder. It provides structural enhancements to buildings, and is effective in all climates. It is typically installed in wall cavities, attics, basements, crawl spaces or on a building's exterior walls.
CONSTRUCTION AND RETROFIT APPLICATIONS
In new construction applications, SPF creates a thermally-effective, tight building envelope. The result is a reduction in energy loss due to air infiltration, and significantly lower heating and cooling costs for the homeowner or building owner. According to the U.S. Department of Energy (DOE), air infiltration can account for up to 40 percent of a home's heating and cooling costs. The thermally-efficient building envelope allows for a reduction in the size of the HVAC equipment required to maintain comfortable air quality in the home or building.
SPF restricts the infiltration of moisture, outdoor allergens and pollutants into a building, resulting in improved indoor air quality. Some types of closed cell SPF are GREENGUARD Indoor Air Quality Certified® and GREENGUARD Children and Schoolssm Certified.
In retrofit applications, energy performance improvements have been measured in buildings when SPF is applied to the unvented roof deck, attic floor, crawlspaces, basements, ceilings and rim joists.